daysinnrddeer
Days Inn Red Deer Alberta Hotel
Ideally located in Southpointe Commons, close to major highways, Westerner Park and the city's newest shopping and restaurant development, Days Inn Red Deer offers a perfect combination of excellent location, high-end amenities, and best value for your money. Perfect for business, leisure and group travellers, we would like to be the first to welcome you to Red Deer.

Hotel Features
Indoor Pool With Water Slide And Whirlpool
Free DayBreak Café Breakfast
Complimentary High Speed Internet & Wi-Fi
Fitness Centre
Freshly-Baked Cookies At Check-In
Wheelchair Accessible Rooms Available
Deluxe Suites With Fireplace Available
Jetted Tubs Available
Extended Stay Suites Available
Free Parking
Laundry Facilities
Top-Notch Amenities Just For You
Your Days Inn Red Deer experience begins the moment you check-in, with freshly baked cookies and friendly front desk staff. But it doesn't end there - we are proud to offer our guests a hearty, complimentary DayBreak Café breakfast, free high speed Wi-Fi, access to our amazing pool with a water slide and whirlpool as well as our fitness centre, and more. Business guests can maximize their time by choosing a room or suite on our quiet secured-access corporate floor.
Amazing Location in the Heart of Red Deer
Just south of downtown Red Deer, our hotel is perfectly situated in the emerging Southpointe Commons neighbourhood. Close to all major highways, this area is quickly developing into one of Red Deer's best shopping and restaurant districts. Days Inn Red Deer is also close to Westerner Park and Red Deer College.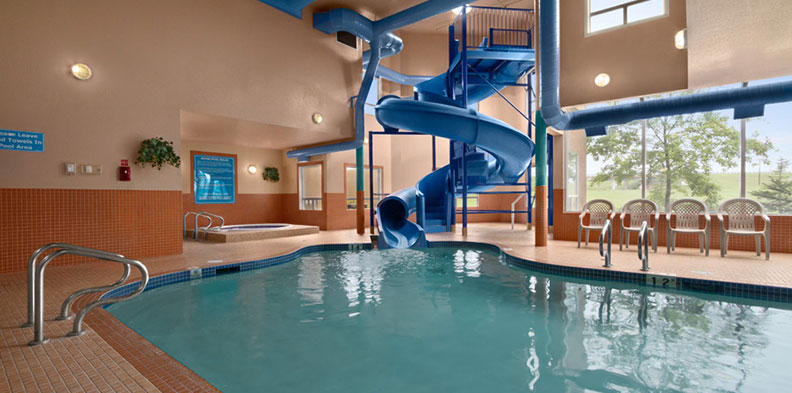 Letter from the Manager
Dear Valued Guest,
I would like to take this opportunity to extend a welcome to all our guests. If you are travelling with your family or here on business, Days Inn Red Deer has a well-trained staff dedicated to looking after all of your needs while you are away from home. We take pride in the level of service we offer; our success and your satisfaction is very important to us. Red Deer and the surrounding area has much to offer and we are in the centre of it. Days Inn Red Deer is walking distance from excellent restaurants and shopping, and if you are taking in a trade show or a Rebel's game, the Westerner is just a few blocks away. WE can offer your team a comfortable and enjoyable stay with our water slide and pool, as well as a fitness centre and free breakfast. For the golfer, there are 45 golf courses within a short drive from Days Inn. I hope you enjoy your stay in Red Deer and if there is anything we can do to make your time with us more enjoyable, please contact me or any of the staff at (403) 340-3297 or email
smorlidge@d3h.ca
.
Stephanie Morlidge
GM Days Inn Red Deer
We would love to welcome you to the Days Inn Red Deer Alberta Hotel
Days Inn Red Deer
#1000-5001 19
th
Street
Red Deer, Alberta T4R 3R1